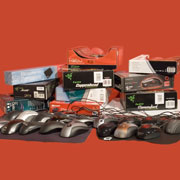 With the launch of the world's first independent benchmarking system for mice, buying a desktop rodent will no longer involve guesswork and luck. Sujoy Roy has been analysing hardcore data and investigating the real world at a fundamental level since entering Cambridge University in 1994. His other passion in life is gaming, so the creation of the MouseScore benchmark makes perfect sense!
If you are serious about fragging the world to death, then you can't afford NOT to read this article and be the first gamer in your team to know the absolute truth in the battle between the massed ranks of the multinational mouse manufacturers.
If you want to read all the technical detail start at Page 1. If you just want the results go straight to Page 21 to see how the different mice compare.
Edited by Nicky at 02:03 CST, 30 December 2007 - 2006190 Hits
Hall of Fame: Informative (added to hof by Black2lip)