Razer Copperhead
Price: £47
Size: 120mm x 60mm x 33mm
Shape: Symmetrical
Buttons: 7
Wheel: Vertical
Sensor: Laser
Resolution: 2000 DPI
USB Rate: 1000 Hz
Razer's current flagship mouse is the Copperhead. Whilst ba
sed on the same case design as the Diamondback, the Copperhead features a pulsating Razer logo along with more sturdy-looking buttons on the side panels. The case is made of on opaque but rubberised black material which makes the lighting effects of the wheel, siderails and logo all the more impressive.
The biggest difference between the Diamondback and the Copperhead is, of course, the new laser sensor. It is touted as a huge improvement over optical mice. Specifically, the Copperhead has up to 2000 DPI with the ability of adjusting it directly on the mouse while you're playing. With the Microsoft models I had already found that the laser sensor malfunctioned at higher speeds, so I was interested to see if the Copperhead would buck the trend.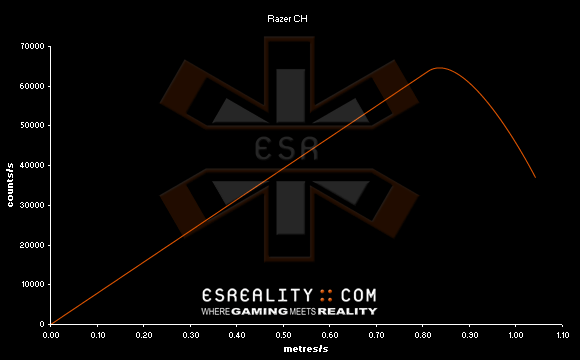 Razer Diamondback Response Graph
The results for the Copperhead were actually worse than the Microsoft Habu. Perfect Control only goes up to 0.83 m/s (32.5"/s) and the mouse reaches its Malfunction Speed at 0.85 m/s (33.5"/s). Again, I made absolutely sure that the mouse was clamped down in contact with the mousepad constantly for these readings so they would not be distorted by any accidentally lift. The DPI came out as 2000, as expected.
For high game sensitivity pla
yers the low range of Perfect Control won't be such a problem since they are unlikely to want to flick the mouse at that speed anyway, but this mouse will be a disappointment for gamers that prefer low sensitivity. Similarly to the Diamondback, the buttons on the side are badly positioned in my opinion. It was difficult to get a good grip on the Copperhead without accidentally hitting a button, and eventually I had to unbind them all just to play a game without interuption.
Perfect Control:
0.83 m/s (32.5"/s)
Malfunction Speed:
0.85 m/s (33.5"/s)