Razer Diamondback
Price: £30
Size: 120mm x 60mm x 33mm
Shape: Symmetrical
Buttons: 7
Wheel: Vertical
Sensor: Optical
Resolution: 1600 DPI
USB Rate: 125 Hz
The Diamondback is Razer's second optical mouse in their current range, priced similarly to the Krait but with four extra buttons on the sides.
The casing of the DB is slightly transparent allowing you a glimpse of electronics inside and allowing the whole mouse to light up when you plug it in. Like the Habu, the side rails go all the way along the sides of the mice and around the back, and set into each side are two buttons li
nked by a single arm. This means that you have to push the front of the li
nk arm to access the front button and the rear to hit the back one. As with all Razer mice the oversized rubber buttons are the key design feature of the mouse, providing a unique look.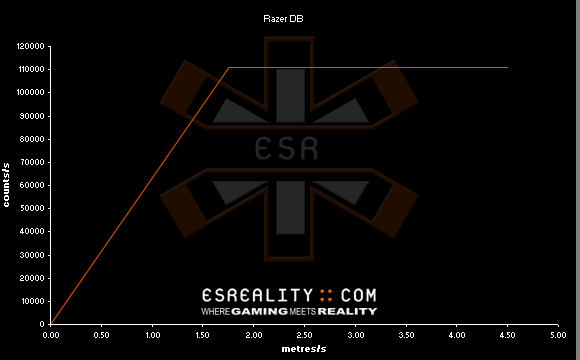 Razer Diamondback Response Graph
The response graph for the Diamondback is very similar to the Krait. The mouse has an identical Perfect Control range up to 1.78 m/s (70"/s) and after that hits a cap in the response. I tried overclocking the USB, but this did not affect the mouse response capping. However with my benchmarking setup I literally could not make the Diamondback malfunction at all even at my top speed of 4.5 m/s. This means I was unable to find the Malfunction Speed for this mouse. Having said that, 4.5 m/s is a huge speed and one that users are not going to reach while playing a game anyway! Like the Krait you will not make this mouse malfunction no matter what you do to it, short of hanging it out of a car window.
The resolution was measured from the gradient of the response graph at 1600 DPI, as expected.
The extra buttons will be handy for those that like lots of controls on the mouse, but I did not like the position they took on the side rails. It was very difficult to hold the mouse securely without accidentally clicking the side buttons. I personally preferred the Krait specifically because it didn't have buttons on the side that I would accidentally hit. However if you rely on extra buttons for gaming then it's worth testing a Diamondback before you buy one, to see if you can grip it without clicking the side buttons.
Like the Krait this mouse performs fantastically well for both low and high sensitivity pla
yers. The low sens pla
yers will get a Perfect Control up to reasonably high speeds, and high sens pla
yers get 1600 DPI of accuracy. This mouse is an all-round winner with performance, looks and enough buttons to keep any gamer satisfied.
Perfect Control:
1.78 m/s (70"/s)
Malfunction Speed:
> 4.5 m/s (177"/s)