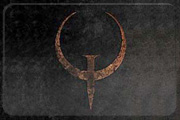 In celebration of 20 Years of Quake, Executive Producer Jerk Gustafsson from MachineGames (Wolfenstein The New Order 2014), released a custom singleplayer mappack called "Episode 5: Dimension of the Past" last week. It contains nine small to medium-sized levels of various themes including a start map, a secret map and a deathmatch arena.
The mappack is a mix of Quake 1 original and later fan mapping trends. Unchanged are the Q1 textures, monster, sounds and soundtrack, to get the retro feel alive. The gameplay is very fluid. It also has good visuals and nice ideas and fights in it. Some secrets are hard to find. I played Q1 right before the new mappack so i can say for sure its a good one. For reactions of the release surf to the mapping site
func_msgboard
.
Get it, play it, celebrate Quake!
Links
:
twitter announcement
,
quaddicted download
Edited by Åke Vader at 06:42 CDT, 3 July 2016 - 1651 Hits