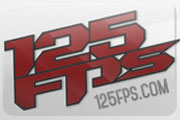 Scheduled: 10:00 CDT, 29 March 2015 to 14:00 CDT, 29 March 2015
Begins In:
125 FPS QuakeLive Duel
Sunday Cup #2
Sign up link will be placed here 1-2 hours before the Cup starts.
When
: 29 March (Sunday), 10:00 CDT
MapPool
: Toxicity, Cure, Dismemberment, Battleforged, Sinister, Lostworld, Silence (PL S#23 maps). Mapchoice - drop first.
PrizePool
: 1st place 70euro, 2nd place 30euro
Rules
: Double Elimination, Winner Bracket: BO1 till the semifinal, BO3 WB semi, WB final and Grandfinal (two BO3 if it will be needed); Low Bracket: BO1 all matches (including LB final).
Detailed information about the 125fps cash flow in 2015 can be found
here
. If you guys will continue to donate - we will continue to provide our tourneys), welcome and thanks.
Links
:
Cup page
, Event
Rules
, Web
chat
(
#125fps
), 125FPS Balance
2015
Streams
:
zLive
Edited by twister_ at 13:05 CDT, 25 March 2015 - 2753 Hits