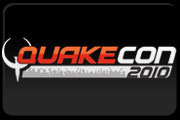 QuakeCon 2010's first day is over and a long one it was. In what seems to be a theme year after year, the QuakeCon tournaments did not start at all today, fueled by an
electrical fire in the tournament area
, and continued by
delay
after
delay
, which resulted in the decision to
call it a day
to the dismay of
unhappy
and tired viewers.
Brackets for
Duel
and
CTF
have been released with some interesting match-ups ahead.

chance
and

destrukt
will meet each other in the second round after their
heated encounter
at the IVGHOF last weekend which saw destrukt forfeit to chance in the end out of frustration. According to

DaHanG
, destrukt has already proclaimed this "to be over already."

proZaC
has been practicing and is trying to make a real run at this year's event, but will have to face a tough

sparks
in the first round, and a determined

stermy
in the second. A stermy who's still one of the very few to take out

rapha
in a set of maps. On the other side of the bracket, unless

draven
can continue to
impress
and

LoSt-CaUzE
can make a next to impossible comeback, we will most likely be seeing

Cypher
versus

strenx
and

Spart1e
versus

Cooller
quarterfinals.

Evil Geniuses
might find some opposition in

compLexity
on their way to the winner's bracket finals, but will probably arrive with relative ease.

Fnatic
and

Deus
want their shot at a rematch with
EG
, but shouldn't look too far ahead as they're in for a tight game with

Loaded
in the semifinals.
DaHanG
says
he isn't thrilled with Battleforged, and hopes a placebo will get him past rapha, if he makes it there.
John Carmack
is still the most bad-ass programmer in the world and has managed to "do some fairly clever things" to get their new title
Rage
working on the iPhone
- at 60 fps! It
looks sick.
Carmack also announced a little QuakeCon gift, as he has released the source codes for
Return to Castle Wolfenstein (Singleplayer)
/
Return to Castle Wolfenstein (Multiplayer)
/
Wolfenstein: Enemy Territory
. The source codes hold no game data, so you must have the games to access assets from each.
Doom 4
will
not
be shown at this year's QuakeCon, after id Software previously
promised last year
that it would be. CEO
Todd Hollenshead
commented that the company wanted to
put more work
into it before it was revealed.
id Tech 5 will apparently be for
Bethesda titles only
, with Hollenshead stating "I think that [Epic] made a strategic choice to focus on the middleware service stuff, and we never pretended to be focused on technology licensing...Epic's made a good business out of that so kudos to them, but I wouldn't change the way we've done things."
Lastly, you can buy every current id Software and Bethesda game right now
through Steam
$70. All of them. That's only slightly more than a year's subscription to Quake Live.
PS. I have contacted HEXUS Lead Developer Steve Kerrison (steve.kerrison@hexus.net) about the site load for this weekend, and he is making sure to keep ESR up and running for the duration of QuakeCon (and other major events from now on). Send him thanks.
Edited by Slasher at 05:19 CDT, 13 August 2010 - 34442 Hits