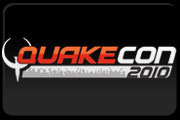 Live On Three is hosted by

Marcus "
djWHEAT
" Graham,

Rod "
Slasher
" Breslau and

Scott "
SirScoots
" Smith.
Live On Three #56 is now online featuring discussing regarding several aspects of this year's QuakeCon including

Cypher
and

Cooller
's epic final,

proZaC
's banning, and the multitude of DNS, streaming, and coverage issues at the event. Special guests on the show include first-time top 3 QuakeCon finisher

Stermy
, the infamous proZaC, and QuakeLive.tv's

Ben "
FishStix
" Goldhaber.
Stermy's thoughts on Cooller gg'ing him with 3:30 left on Furious Heights:
What can I say? I mean..that's Cooller, ya know? it was probably 10 frags ahead with 3 minuted left, and I knew that the match was pretty much over, but I gusss he wanted to get into my head because I won the first map. I don't get scared of those things anymore. I played during the time when 2GD was playing, and I mean that guy's trash talk is definitely worse than Coollers even, so i have enough experience from that, I don't get annoyed anymore by it. Cooller is like that, gotta take it for what it's worth.
proZaC on getting booted from QuakeCon:
...I'm playing my game which is awesome - I kept it sexy. I thought sparks was a half-newb, and wanted to show the world you can play Quake without pressing +back, just keeping it fucking sexy, and i lost int he last 15 econds because i missed a rocket jump to red armor. If I got that rocket jump I would have won hands down. When I lose to sparks I'm steaming so I go to the pool - I'm out. Go to the pool, get my swim on, get my drink on, when my CTF team comes and says I have to come back and play
Listen to the show now on
djWHEAT.blip.tv
. QuakeCon talk starts at 5:00, FishStix on at 38:00, Stermy on at 46:00, proZaC on at 60:00.
Edited by Slasher at 00:43 CDT, 18 August 2010 - 25455 Hits