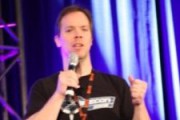 I just returned from QuakeCon 2010, bleary-eyed, exhausted, and happier than I could have imagined. Thirteen QLTV staffers descended on the event just a week ago to begin on-site preparations and setup. Throughout the week, several of them, myself included, wouldn't even get a chance to attend John Carmack's keynote, would miss the many panel presentations and wouldn't even see what vendors were strewn about the same exhibit hall in which we were about to spend the next 4 days because we all would be too busy.
In short, covering QuakeCon 2010 has been a relentless endeavor from start to finish. This literary after action report will detail my experiences as Lead Shoutcaster and unofficial manager of Quake Live TV. QuakeCon is an event built by and for the community, and I feel the community should know and understand how and why things happened the way they did this year.
Stepping Up to the Plate
Partnering at the 11th Hour
Part 2
Part 2 - Gathering The Troops
I'm A Lucky Man
Game Faces
My Kingdom for an Internets!
Upstaged
Part 3
Part 3 - Fire In the Hole!
Day 2: Stream at Last, Stream at Last!
*.net *.split
QuakeCon Volunteers and Staff Save QCon
Part 4
Part 4 - The Final Day
Center Stage
Bring Your Own.. 'Casting Setup?
Addressing LiveOnThree Episode 56
Final Thoughts
Edited by GreasedScotsman at 13:30 BST, 24 August 2010 - 35624 Hits