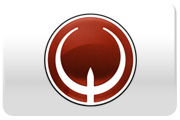 Loaded, LLC -- Loaded, North America's renowned professional gaming organization, is proud to announce that today it will be picking up a Capture The Flag (CTF) team for the popular first-person shooter, Quake Live. The team, formerly known as DaFoneMen (DFM), consists of several talented and experienced players who will be representing Loaded at the upcoming QuakeCon 2010 event in Dallas, Texas.
Leading the team will be veteran Quake player, Kevin "KGB" Holowchik. Holowchik was a deciding factor in his former team, Who Run It, finishing an impressive second place in last year's QuakeCon tournament. Joining him will be Jeff "Flysher" Heakes, Justin "sparks" Sparks, and current Loaded player Gaven "whaz" Sorensen. The team has managed much success so far, quickly becoming one of the top teams in North American Quake Live CTF.
"I am excited to have this group representing us at the upcoming QuakeCon tournament," said Shashi "DetonatoR" Singh, Team Manager. "The team has just the right mixture of experience, talent, and hunger to be a challenge to any and every team in attendance. They've already proven themselves to be a force to be reckoned with in their results so far and I am confident they will showcase this in Texas."
"First and foremost, we would like to express our gratitude to team Loaded for their support," said Jeff "Flysher" Heakes. "We are very happy to represent Loaded who have quickly established themselves as one of the top professional gaming organizations in North America."
"As a newly formed team ourselves, we are especially excited to play at QuakeCon this year," explained Heakes. "In our first event playing together, we participated in the one-thousand dollar QUAD Gaming tournament and defeated the top two contenders in the North American scene to take the tournament. While it was a great start, we made sure not to let anything get into our heads as there is no place for egos on our squad. We have since grown much stronger as a team and believe to be serious contenders for this year's CTF tournament."
About Loaded LLC:
Loaded, LLC is a professional multi-gaming organization where passion for esports and the desire to compete are first and foremost. Founded in June of 2009, Loaded has quickly risen toward the top of North American gaming and currently fields the top teams in Heroes of Newerth, World of Warcraft and Call of Duty 4, among highly talented teams in Counter-Strike 1.6 and Quake Live.
4693 Hits