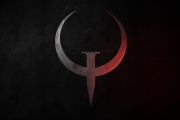 While id Software has made a
commitment
to Duel and its importance in esports, much of the focus for
Quake Champions
is in its team-based game modes. For QC Executive Director Tim Willits, this will allow for both new players to find an easier footing in QC, and to keep Quake diehards happy.
"Historically, most of our Quake games are free-for-all, so you have one winner and 15 losers," Willits told GameSpot. "So we definitely want to push people more into teamplay because you have a better chance of winning--a 50-percent chance of winning. And it allows, especially new people, to find a champion they like, be successful, not have the entire weight of the game on their shoulders, and have these successes that build over time so you can feel more comfortable as your skills increase."

"It's 2017, and we want to have a lot of people to play the game. We both need to make our Quake fans happy but also make the game approachable and new and fresh and allow people to feel good when they play it."
Willits also remains confident that abilities in QC and comparisons to other games such as
Overwatch
will not detract from a true Quake experience.
"We do feel that when you come and play, you go, 'This is the right way to play.' You still run and jump and strafe-jump and rocket-jump and stuff, so it doesn't really change. I think people are like, 'Oh my god! There's abilities in Quake; you're ruining the game!' Luckily, people that have gone through [our PAX demo] are like, 'This is good,' and they see what we're trying to do.

"We needed to tap into that core DNA of Quake: skill-based, it's fast, everyone has the same weapons; no one has a weapon advantage. We have the holy trinity: rocket launcher, railgun, lightning gun--we'll never mess with that. That core game loop, the recipe for our cookie, is good. So then we just need to add on stuff and push, push, push--oh, that was too much, come back a little bit and then push, push, push.
Read the full interview at
GameSpot
.
Edited by Slasher at 23:10 CDT, 13 March 2017 - 24045 Hits