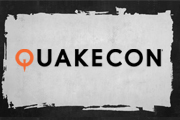 Once upon a time there was a quake player called

fazz
who very much liked to play duel at
QuakeCon
. But shortly after his wish was
granted
by our lord and savior

Memento_Mori
something unexpected happened.
QuakeCon
announced that for the first time since 2007 it wouldn't have a regular duel tournament but instead hold a team based tournament, the
Quake Live Tri-Master Tournament
.
Naturally he decided to look for other players and quickly found team mates in

Spart1e
,

dem0n
and

noctis
who all were interested in attending
QuakeCon
this year and thus

Team Averagers
was born. But to actually get that team to
QuakeCon
your support is now needed! With
fazz's
flight already paid for the rest of the team can use any financial help they can get to actually make this happen.
The donation goal is set to
1000€
but even anything below that would already help tremendously!
Update:
Thanks to everyone who donated we are able to announce that the goal has been far exceeded! All our flights are booked and we have signed up (applied) to the
Quake Live Tri-Master Tournament
. Everyone in the team is really excited about practicing TDM and CTF in the coming months and we hope to live up to all your expections!
Special shoutout to
2GD
who donated an amazing
$1,089.07
!
Donation total:
$2,302.34
If you still wish to donate please mention in donation message that it is for
QuakeCon
.
Links:
Donate via Paypal or Creditcard
,

fazz
Edited by noctis at 17:03 CDT, 22 March 2015 - 100333 Hits