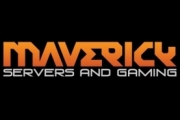 The
MaverickServers.com
Quake 3 mapping competition
has ended and judging will
start soon
! The judging map pack can now
be downloaded
. Judging should start within a week and finish about a week after that.
The gracious sponsors of this mapping competition are
Massacre Servers
,
Lunar Module
,
CG Textures
,
Luxology
,
Ready Up Radio
,
Sapphire Technology
,
Wacom
,
Kot-in-Action
and
id Software
.
The judges are:
- Adam "SyncError" Pyle from id Software
- Chad "Despair" Younger maker of Overgrowth
- Joe "nineX" Szymkowicz from Ready Up Radio
- Kevin "Anthem" Lower from Team Event Horizon
- Jeffrey "draven" Debipersad from LowLandLions
- Andrew "gellehsak" Ryder
Huge thanks to all of them for helping to make this competition a success.



Satanic(FFA, TDM), Sanctum (DM/TDM), Fluorescent (CTF)
And the winners are...
1st Ferdinand "cityy" List with 'Fluorescent'
2nd Tom "Phantazm11" Perryman with 'Windsong Keep'
3rd Russell "bst" Vint with 'Terminatria'
4th Patrick "kaffeewunder" horn with 'knc_dm3'
5th Justin "StormShadow" Ingels with 'Satanic'
6th David "Noruen" Adámek with 'Penumbra'
7th Pawel "ShadoW" Chrapka with 'Sanctum'
8th Peter "fKd" Ward with 'Server Overload'
9th Ricardo "EmeraldTiger" Stevenson with 'Tactical Assault'
10th DaEngineer and Bliccer with 'Roman Duel'
11th Fubsy with 'Fbtdm1'
12th Anthony "Kaustic" Tullo with 'Damed Be Thy Name'
13th Andy "dONKEY" Dunn with 'dk_ng3'
14th Hendrik "InsaneKid" Berger with 'Ebirah'
Links:
Competition page
,
Forums
-

#maverickservers
Previous Competition:
ESR Post
,
Main Page
Edited by MaverickMSG at 09:49 CDT, 7 May 2012 - 23770 Hits