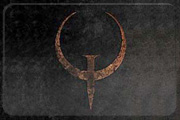 For QuakeWorld players feeling an urge to do some competitive dueling there are good news coming as a new season of
Thunderdome
is taking signups. Thunderdome has for the last years been one of the staple tournaments in QuakeWorld, running for seven consecutive seasons in a row now and one of the main factors behind its popularity has been the way that players are matched against opponents of similar skill in a judgement made primarily by head admin

VVD
. Season eight will be no different with the skill span ranging from divisions with elite players to divisions where duelers may be more or less starting from scratch.
The map pool has featured a bit of controversy the last years as one of the big five maps - DM6 - has been replaced by Bravado (made by

Foogs
). The map pool is thus DM2, DM4, Aerowalk, ZTNDM3 and Bravado.
Another interesting addition this season is that the highest division is called the "Open Division". In this division any player can decide to step up and play with the big guys in case he/she think they got what it takes. This is in addition to playing in their regular division. Besides the open division consisting of the best opponents there are, it also features more games than the other divisions as best-of-five match format is used earlier than for the other divisions. To find out about any other changes you are advised to skim through the
rules section
before the tournament.
The new season does not have a 100% set start date yet but it is expected to be in about a week's time.
Links:
Thunderdome Season 8
|
Signups
Source:
QuakeWorld.nu
Edited by Åke Vader at 09:28 CDT, 22 March 2017 - 2783 Hits