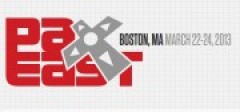 Game Type: FFA
Format: Instant Gib FFA
Player Cap: 100
WinLimit: 1,000 Frags
Come join us at PAX East 2013 for a MASSIVE instant gib, 100 players, all out frag fest!
First person to hit 1,000 frags will qualify for the final round with a handful of other contestants in the server! Prizes will include medals and other computer gear.
For more information, please visit
http://east.paxsite.com/
and last, GLHF to all =)
Edited by butcher_kgp at 19:36 CDT, 19 March 2013 - 7148 Hits