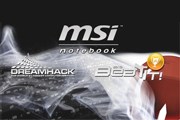 UPDATED:
Postponed qualifier #2 will be hosted on Saturday, 30th with the start at
17:00 CET
. This was because it clashed with the Dreamhack Qualifier, which has now been changed from 14:00 start to 13:00 CET.
As many of the players required, we have moved Qualifier #2 to Saturday, 30th of October. Seeing as there is IEM night on Wednesday and some players have to commit to their work and other non e-sports related stuff, we have met their need and postponed the qualifier.
This
last qualifier
will however differ from previous two as not 4 players will qualify for MSI BEAT IT QuakeLive tournament at DreamHack, but 3 slots will be available for Sweden. The reason is the confirmed invitation of

Sander "
Vo0
" Kaasjager, famous Quake player.
Qualifier on Saturday
will be played in best-of-three format from the beginning just like the previous one.
Level UP Tv
will of course be there to provide stream for your viewing pleasure.
Links:
Fnatic.com
,
Level Up TV
Edited by xou at 10:15 CDT, 31 October 2010 - 100484 Hits