Scheduled: 02:00 CDT, 7 June 2008 to 12:00 CDT, 7 June 2008
Schedule:
Passed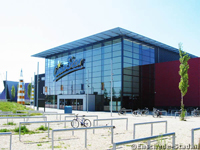 The Dutch qualifiers for the 2008

Electronic Sports World Cup (ESWC) have just been
announced
by WSquared Entertainment. Taking place on June 7 at the CineStar Colosseum in Enschede qualifiers will be held in:
-

Warcraft III: The Frozen Throne (two spots)
-

Quake III: Arena (one spot)
-

Trackmania Nations (two spots)
A Counter-Strike qualifier for the ESWC Masters will also be held from May 17-18.
Trackmania player

Freek 'XenoGear' Molema will be part of the Dutch delegation as well because of his status as defending champion. The delegation can also increase depending on success of any Dutch players at the ESWC Masters.
Edited by Nicky at 14:53 CDT, 9 April 2008 - 31757 Hits