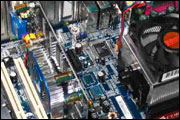 i've been using a cm storm quickfire rapid tenkeyless keyboard with mx black keys for over two years now. unfortunately it seems to have a bad connector and it keeps disconnecting as you move the keyboard around which is obviously very annoying mid-game.
so i'm looking to replace it with another tenkeyless keyboard using mx black keys but i cant find a single keyboard here in germany that fits my criteria. it was 70 EUR at the time and if possible i'd like to stay in that range. the quickfire rapid doesn't seem to be on sale in germany at all anymore.
can anybody suggest a keyboard that i should check out?
Thanks in advance.
94 Hits