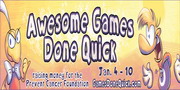 Scheduled: 11:00 CST, 4 January 2015 to 19:00 CST, 10 January 2015
Schedule:
Passed
Speedrunning is a community that is getting bigger and bigger every year. Speedrunning means completing a game as fast as possible without cheating, you may use glitches inside the game but no cheat codes. There are over 1000 speedruns over at
Speed Demos Archive
and probably more that haven't been submitted yet.
The guys over at
SDA
got two events every year where they gather people from all over the world for about 6-7 days and play video games. These are called
AGDQ
,
SGDQ
, Awesome Games Done Quick and Summer Games Done Quick.
Last year at AGDQ 2014 they managed to raise
$1,031,189.00
for the
Prevent Cancer Foundation
and Summer Games Done Quick managed to raise
$718,155.07
for
Doctors Without Borders
. Letting people know about these events could help the cause and - the more people that join the speedrunning community the better.
I hope you got inspired enough to watch some of these awesome runs and hopefully you'll be speedrunning very soon! more helpful links will be posted below to help you find everything you need to know about speedrunning.
AGDQ'15 Stream
AGDQ'15 Schedule
Links:
Speed Demos Archive
,
Speedrunslive
,
w00ty
,
SDA Charity Marathons
Edited by Teen Queen at 00:34 CST, 5 January 2015 - 45615 Hits