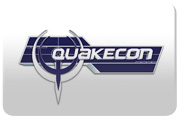 American Quake Champion

Shane "
Rapha
" Hendrixson from SK Gaming won the Quake Live 1v1 QuakeCon 2013 Championships and $9,000 in a thrilling five game final over Russian favorite

Sergey "
Evil
" Orekhov.
Hendrixson speaks to GameSpot on winning his third QuakeCon title, now nearly a dozen major Quake Live titles. He says he will not stop competing.
"I think I'll just look at it like 'hey, if I have the time to go play in a big tournament and can prepare for it, I will,'" he says, as DreamHack's 2013 Winter event looms in the distance with $15,000 in prize money. ""So I won't say that I'll 'retire'. I''m going to always leave the door open. I've accomplished quite a bit in Quake, and to me I don't really look at it like 'okay, I've finally won this now I'm good.' I've always tried to take it one tournament at a time and I'm always looking to win and do more and I think it'll always be that way. If you don't look at it that way it's so difficult to win against someone who really wants it more than you.
Winning a third title now does mean a lot to me considering that John [ZeRo4] is my friend, someone I looked up to as a player for a long time and was the one who helped give me the little push I needed to start being able to win," Hendrixson said. "So to have that same accomplishment as him is nice to have. As with Cypher almost every tourney we go to I want him to do very well also and we have a good friendly rivalry, neither of us gets bitter when losing to the other and now that I have three like him, the race is on to see who can get four.
Head to GameSpot
to read the full interview.
Edited by Slasher at 20:32 BST, 6 August 2013 - 48988 Hits