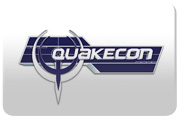 From Quakecon website:
"Quick QuakeCon 2013 update for tournament fans…
We will have 3 tournaments this year, two in Quake Live and one old-school DOOM II tournament. New for 2013 will be a Clan Arena tournament for Quake Live, and returning will be the always exciting Duel mode. Now get back to practicing!"
http://www.quakecon.org/2013/06/quakecon-tourney-update/
well?
Edited by xou at 08:01 CDT, 17 July 2013 - 6099 Hits