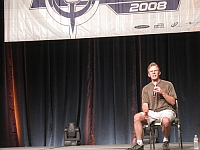 Before this years QuakeCon faded away in our memories, here are a few videos from the event.
Enemy Territory.TV
overs us the Carmack Keynote and Press Conference plus the Fatal1ty interview.
Now see what QuakeUnity deliver us, note that from time to time some new videos arrives. The shoutcast of the videos is provided by Michal "Carmac" Blicharz, Rod "Slasher" Breslau, Brian "destrukt" Flander and Stuart "Django" Ewen.
Carmack Keynote QuakeCon 2008
1v1: Griffin vs. ZeRo4: 3 Maps
(new)
1v1: ZeRo4 vs. Rawfuh: 2 Maps
1v1: ZeRo4 vs. Rapha: 2 Maps
1v1: ZeRo4 vs. Chance: 3 Map Set
(Chance kicks Zero4 in the Lower Bracket)
1v1: Rapha vs. Cypher Map2
(contains short Cypher Interview)
1v1: Fox vs. Cypher: Map1
1v1: Chance vs. Carnage Map1
CTF: rage vs. inninitforthe$ Map1
CTF: rage vs. inninitforthe$ Map2
CTF: rage vs. inninitforthe$ Map3
Roger from
QuakeUnity
:
And don't forget about the QuakeLive 1v1 and CTF finals videos. The 1v1 finals video has been edited and just needs to be rendered and uploaded. It will contain all the in-game footage of the 2 maps played between ZeRo4 and Cypher along with video from main stage and award ceremony.
Edited by Badb0y at 19:24 BST, 10 August 2008 - 59618 Hits