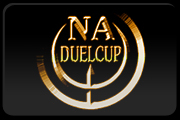 Scheduled: 17:00 CDT, 21 June 2015 to 21:00 CDT, 21 June 2015
Schedule:
Passed
This Sunday at 17:00 CDT you're invited to the 10th North American Duel Cup! The NA.DuelCup will remain a seven map event and I have decided to permanently change the map selection process to Drop-Drop. For single day cups like this Drop-Drop makes more sense to me, but public feedback is always welcome. This month our June 21st map pool will be composed of aerowalk and hektik in addition to the QuakeCon 2015 duel maps. Sign ups are open now, but you must still check in on the same day as usual, and please make sure you are signed up before 16:50 CDT to avoid being locked out of the brackets!
Thank you For Quaking!
VOD Playlist
Available!
Stream:
FlairTV
(VODs)
Links:
Brackets
,
DuelCup.com
-
#duelcup
Edited by flair at 06:38 CDT, 23 June 2015 - 15804 Hits