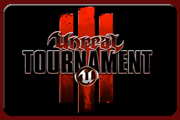 Scheduled: 13:45 CDT, 21 April 2014 to 14:40 CDT, 21 April 2014
Schedule:
Passed
The stubborn UT players are hosting 4v4 TDM Cup for the sole purpose of entertaining you! Format will be somewhat classic.
Matches should provide a high skilled spectacle, the goal is to stream massively and have FUN, first of all. To spice things up there's 20€ on the line to start to build up the prize money pot, donations are greatly appreciated.
If you need any help setting up UT3, hop on our IRC channel #ut3.tdm @Quakenet IRC / for more ease you can use Webchat to connect. Streamers will be announced later.
General Help / training / INIS will be provided if needed, along with private servers almost everyday after 11:00 CST.
Edited by Lw)f at 03:27 CDT, 1 May 2014 - 15429 Hits