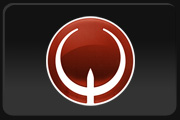 QUAKE LIVE Premium Pak 17 is now online. This update features three new arenas from both community members, and a new in-house arena targeted at our Clan Arena mode. We are also announcing our plans to players in response to our recent downtime.
Additionally, as a token of our appreciate for your patience through our recent downtime, we are happy to announce the following:
Subscriptions Extended: The expiration date for all subscriptions have been extended by 3 days, to make up for lost time.
Free Premium Arena Weekend: We are opening up access to all arenas from Friday, May 10th through Sunday, May 12th. Players will be able to play on all arenas at all membership levels, and our Pro subscribers will be able to launch standard matches utilizing the full array of maps.
Accept our Repentance: The new Clan Arena map from id Software, Repent, will be added to this month's Standard Map Rotation and available for everyone to play beginning today.
Links:
Official Announcement
Edited by wn at 14:45 CDT, 7 May 2013 - 34429 Hits