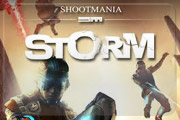 ShootMania just launched the open beta a few days ago and now becomes ZOTAC Cup's newest addition. We are glad to present you the new ZOTAC ShootMania Joust tournament kicking-off on February 24th at 14:00 CET. But a weekly cup is just the beginning. ShootMania also comes along with a Monthly Final as well as a Loyalty Program.
Details
Kick-off: Sunday February, 24th - 14:00 CET
Check-in: one hour before the Cup start
Prize: 100 Euro + ranking points for the monthly final
Mappool: 3Arches, Abbey, Defiance, Kingsway, Prison Break, ProvingGrounds, Rampant
Monthly Final
Gather ranking points to qualify for the monthly final with a prize money pool of 500 Euro in total. The best 8 players with the highest amount of ranking points will be a part of this ultimate showdown and decide who is the very best Joust player out there.
The ranking points are distributed as follows:
- 5 points: cup winner
- 3 points: runner-up
- 2 points: semi-finalist
- 1 point: quarter-finalist
Monthly Final prize money distribution:
- 1st Place: 250 Euro
- 2nd Place: 150 Euro
- 3rd Place: 100 Euro
Loyalty Program
Where usually only the best players have a chance to win prizes, the ZOTAC ShootMania Loyalty Program gives the most loyal participants an equal chance to score. The Loyalty Program truly enhances the rewarding experience of testing your skills in a ZOTAC cup by a whole new level.
Take part in as many ZOTAC ShootMania tournaments as possible from February to the end of July as this will increase your chances greatly.
February – Become familiar
Take part in the first ever ZOTAC ShootMania Cup on February 24th in order to have a chance to win a
ZOTAC GTX 650 TI
.
March & May & July – Get a ticket for every participation
Every participant gets a ticket for each participation including the previous months. In the end those tickets will put into a lottery wheel and a winner will be drawn.
April & June – Win as many matches as possible
Every won match will count as 1 point. The player with the highest amount of points during all previous tournaments will be the winner of the prize. If more than one player has the same amount of points a raffle will decide.
Tournament System
The ZOTAC ShootMania Joust tournament will be played in a "pool system" with high and low seeds until the quarter finals. Starting with the quarter-finals each round will then be played in a single elimination grid system. Ro16, Quarter- and semifinal held in Best of three mode. The final will be best of five. Maps will be vetoed until the right set of possible maps is found.
During the tournament, the pool system will find the next available opponent automatically for the participant to minimize waiting times between the matches. A limited number of players receive high seeds in order to not eliminate each other before the final rounds. If a high seeded player loses his match, his opponent will inherit his high seed slot.
See you Sundays at 14:00 CET - It's Time to Play!
Links:
ZOTAC Cup website
,
ZOTAC news
,
Loyalty Program
,
ShootMania Open Beta download
9117 Hits