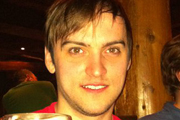 I've published an interview with

Guillaume "Grrrr..." Patry
, the only non-Korean to ever win an OSL in BW.
Some of the topics we discussed:
-The BW scene before Grrrr...'s move to Korea.
-His transition to life in South Korea.
-The excessive partying and drinking which inhibited his professional career and results.
-The rise of players like

YellOw,

Kingdom,

BoxeR and

NaDa.
-Thoughts on Korean culture and BW/esports' peak over there.
-Thoughts on MOBA and SC2.
On whether he was the best foreigner before going to Korea:
I can't say that I was the best foreigner, but back then some of the best players in practice did poorly in tournaments. It was the opposite for me, I played better under pressure. In 1999, the best players were not Korean. Around mid-2000, that's when Koreans started dominating Starcraft.
The interview can be read at
Team Acer
.
Edited by wn at 07:19 CST, 10 November 2012 - 9600 Hits