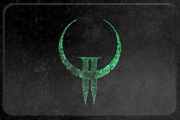 A new Quake2 year is finally approaching; the 2012/2013 season! We celebrate this by launching the sign ups phase for the
European Duel League #11
!
The EDL is a Deathmatch 1on1 competition - the biggest Q2 event left on the planet - open for players from all corners of the world. Non-Europeans normally play their games on home/away servers, i.e. an American may play one map in the US and one in Europe, but despite having to endure a little higher ping once in a while, it works out splendidly!
The league features several divisions, meaning there's a place for players of all skill levels. Even the most sporadic, rusty and unsolemn quakers are guaranteed fun! So no excuse not to join in! Any questions? Don't hesitate to ask! There's always helpful people on IRC!
Sign ups deadline
: Wednesday, September 26th, 24.00 CET.
New to Quake2?
Here's a quick and easy installer to get you started:
q2s.tastyspleen.net
Links:
Read more at
q2scene.net/edl
, #EDL on Quakenet (
webchat
)
Edited by Badb0y at 14:21 CDT, 15 September 2012 - 14465 Hits