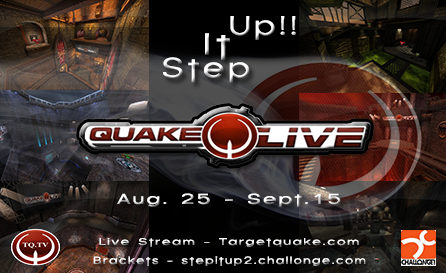 Scheduled: 13:00 CDT, 7 September 2012 to 15:00 CDT, 8 September 2012
Schedule: Passed
Tired of getting owned by people with a higher Elo then you? Canít quite get your foot in the door for the big cups? Then this is the cup for you!
There will be a cup each week, so we need a different winner for each! At the end of 4 weeks (Sept. 16th) we will be having a "Step it Up Duel Master Finals" event, where prior first- and second-place winners will be placed in a Bo5 single-elimination bracket!
Eligibility
QLRanks Elo rating under 1500
At least 3 days of play time on your Quake Live account
Not a first- or second-place winner from a prior week
Times
Check-in: 12:30 CDT, 8 September 2012 (check in on IRC!)
Starts: 13:00 CDT, 8 September 2012
Rules
Players: 16 players
Format: Double Elimination. Bo3 until semifinals, then Bo5
Map Selection: toss toss pick pick, then flip for tie breaker
Maps
Blood Run, Campgrounds (added for non-premium users), Furious Heights, Aerowalk, Toxicity, Lost World
Congratulations to the ones who moved on to the grand finals! Jok0, cycrow and pangu!
This event is a 16 player bracket with a wait list. If you're on the wait list, please check in, and you will be placed in the bracket to replace a no show.
Stream: Targetquake_tv
Links: #StepItUp
Edited by RobsomeAwesome at 03:45 CDT, 8 September 2012 - 1766 Hits