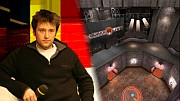 As promised some time ago, I am now making available a

dem0n
interview. I did the translation myself again so I apologize for any mistakes.
You probably all know

dem0n
, brilliant TDM / CTF / duel player from Belgium, and probably the one who has achieved the most in QuakeLive. In this interview we discuss his personal career, the CTF NC, TDM and the Belgium scene, the Adrien "burnedd" Denis case, the future of fast FPS and so on. Here's an extract of the interview:
Let's talk about duel. You already went to many big LAN events like DreamHacks or the UGC and you regularly do pretty well in Zotac cups, what do you think of your situation on the international scene and what are the domains in which you have to get better in order to annoy the big five in your opinion ?
Honestly, in online competition I have more difficulties against "subtop" players than against top players like Cypher, Avekkk, Cooller or rapha...except strenx of course. By subtop, I mean players like p0ni, pavel_, uaReaper, alfaomega, agent, evil, etc. who are really good players online according to me. I did some good results in LAN events too but I often missed some opportunities, some momentum.[...]
Read the full interview on
Esportsfrance.com
. Other interviews
Guismo12
.
Edited by Demiurge at 11:47 CDT, 11 April 2012 - 14196 Hits