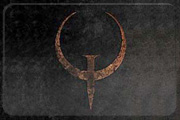 I would like to announce
4on4 North/South American Team Death Match Tournament
for the game of QuakeWorld. Mappool consists of Dm3, Dm2, E1m2, and possibly 2 other maps. Brackets will be determined on the amount of players signed up. Competition will be a 4 week 4on4 tournament and hopefully the games will be broadcasted. Beginning dates and further information can be found on
http://qwsta.info
The tournament will attempt to be the most fair tournament to date. There will be captains based on the amount of players signed up. These captains will be the best in the business, so we wont have any STACKED teams. They will choose their teams through the draft and then train their teams to compete.
Anyone that is dedicated to practicing once or twice a week, and playing on Sundays is welcome to join in. Ideally if we have enough teams signed up we will be broadcasting them through justin.tv.
CALLING ALL TDM'ers. To all of you team dm'ers out there, I would like to invite you to the first ever 4on4 QuakeWorld draft league.
People from games such as WARSOW,TF2,QLIVE,CPMA,Q1,TFC, etc, would appreciate this. QuakeWorld movement is similar to these games and the competition will be a blast.
I am reaching out to these communities because of the lack of TDM in today's FPS games besides COD and BF which are very boring.
If you like TDM, and you want to give it a try, stop by
http://qwsta.info
and sign up to compete in this special draft league.
Edited by Paladia at 16:09 CST, 2 December 2011 - 7983 Hits