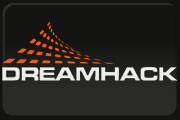 I'm bad at writing news, so here is a nice copy/paste from the
announcement
on dreamhack.se.
Twitch.TV join ZOTAC and Plantronics to support Quake Live at DreamHack Winter 2011. DreamHack cancel Showmatch in Duel and replace it with a real 16-player duel tournament.

DreamHack is about listening to the community and after our announcement yesterday with a SEK 60 000 TDM-tournament and a SEK 20 000 Showmatch in Duel – we got alot of feedback that the community would love to have a real duel tournament on-site.

At the same time we got approached by our streaming partner Twitch.TV and they said they could support a Duel tournament with $5,000 in prize money. So we have decided to cancel the Showmatch with SEK 20 000 in Quake Live and replace with with a real Duel tournament with 16 players – in addition to our already existing TDM-tournament. This will give us a Duel tournament with SEK 55 000and a TDM-tournament with SEK 60 000 which is a total prize purse of SEK 115 000 in Quake Live only – one of the biggest total prize purses DreamHack have pulled off in this game.

"DreamHack announce Quake = good, but no Duel make ppl sad :( . We add duel tournament to make people happy! HIGH FIVES ALL ROUND" said James '2GD' Harding, Twitch.TV Europe

All matches will of course be broadcasted live at www.twitch.tv. More information and details about the on-site coverage will be presented later.
Edited by xou at 11:55 CDT, 21 October 2011 - 63634 Hits