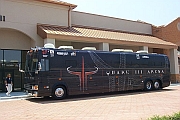 Not long ago i wrote
an article
about the "Quake 3 Arena Road Tour" back in 1999.
It was a promotional tour for the yet not released Quake 3 game. The big black and evil looking bus drove to the south and west in the USA. The bus itself contained 8 lan stations ready to play Q3 in an early version.
My article is in german, sorry its too much work to translate, but you get an idea of the road tour if you read my used
main visitor sources
of this report.
Jason "loonyboi" Bergman blogged the tour 4 days long for bluenews
Dennis "Thresh" Fong visits the tour
TexorcisT was pissed that
the tourstop in Austin University
had no promotion t-shirts for him. Ten years after the tour i found out why, according to the bluenews blog one tourstop before a paket with t-shirts was missing or stolen :)
Trillian visited
the tourstop in Portland, Oregon
and lost against her man with 1 frag in the competition, excuse "i had no sound" :D
It seems sometimes the site is down, then wait a little while.
And we have Russell "RadPipe" Lauzon, he was on
the last tourstop in Los Angeles
near the Activision Headquarter, on the last final tour party, and he helped to get the equipment out of the bus, buhu :(
my picture gallery
in 4 sections
pictures:
- Katherin Anna Kang (wife of John Carmack) with Dennis "Thresh" Fong
- Victor "Makaveli" Cuadra
Edited by Badb0y at 22:27 CDT, 19 June 2011 - 4857 Hits