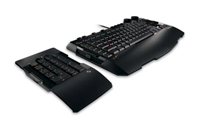 How are you gentlemen. I am contacting you on behalf of BILL GATES president of Microsoft and creator of Microsoft Sidewinder X6 gaming keyboard. Recently MR GATES has fallen ill and asked me to wire you €100,000 and information about Microsoft Sidewinder X6, made for very hardcore gamers, for you convenience.
Here is sample:
As mentioned before, the number pad detaches and moves over to the left side of the keyboard. This is accomplished via a proprietary connector and a couple of magnets. Once the numpad gets near the magnets on the keyboard, it snaps itself into place perfectly. You don't have to dick around with aligning the connectors or anything–it's a very seamless transition.
Please to be reading full Sidewinder X6 review at

GGL Wire.
Edited by xou at 12:53 CDT, 21 October 2008 - 17217 Hits