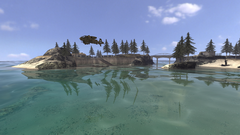 Daniel "Elchtest" Pohl from Intel who works on a Ray Tracing grafic engine for computergames, is presenting his
new homepage
about
QUAKE Wars Ray Traced
.
As a id-Software fan and developer of
Quake 3: Ray Traced
and
Quake 4: Ray Traced
it wasn't hard to foresee a QUAKE Wars Ray Traced.
His page includes, beside new screenshots, a video which shows QUAKE Wars with a Ray Traced engine. It´s available in 3 different video resolutions.
These small demonstration video was first presented on the
Research Intel Day
. You were already able to download the high resolution video since august.
Video download
About the video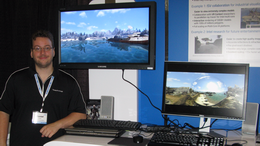 Releated links
Introductive articel by Daniel about
Ray Tracing and Gaming
The
first part
of these video shows scenes of Quake 3, Quake 4, and QUAKE Wars. Recorded at Daniel's presentation on the Game Developers Conference Feb. '08
other news
Ray Tracing again
(esreality)
Ray Tracing and Gaming, One Year Later
(esreality)
thanks to Pr3dator!
Edited by Badb0y at 19:55 CDT, 24 September 2008 - 13987 Hits