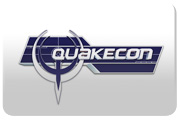 Michal "
Carmac
" Blicharz of
SK Gaming
has released footage of a presentation taking place on stage before the Quake Live 1v1 finals at
Quakecon
.
The footage includes

Vo0
chatting up an unknown girl and another girl giving away a bra in exchange for a ticket for a prize draw. It also shows

Cypher
being told he has to wait until it's all done as well as how the MCs have no idea about the Quake Live tournament that took place or previous Quakecons.
It's worth a watch so make sure you
check it out
.
Carmac has also written up his thoughts on the event over at
SK Gaming
.
Exerpt:
"The finalists sat tired and hungry, and jetlagged in the case of Cypher, as this dragged on for three hours while Hollenshead and Stratton took their sweet time entertaining the public."
Edited by xou at 13:50 CDT, 12 August 2008 - 5127 Hits