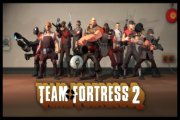 Team Fortress 2
is a multiplayer team-based first-person shooter, developed by
Valve
as part of the game compilation

The Orange Box
. The game was announced in 1998 as a sequel to the original Team Fortress mod for Quake, but has since been through various concepts and designs. In 1999, the game appeared to be deviating from the original Team Fortress and Valve's own Team Fortress Classic mod for Half-Life by heading toward a more realistic and militaristic style of gameplay, but the design metamorphosed further over the game's nine-year development and game engine switch. The final rendition of Team Fortress 2 bears more resemblance to the original Team Fortress and Team Fortress Classic games, and sports a cartoon-like visual style.
Promotional Video
[stage6=http://video.stage6.com/3037/.divx,320,180]
System Requirements
Patches
:
Automatically updated through steam.
April 2, 2008
March 21, 2008
March 6, 2008
February 28, 2008
January 26, 2008
January 7, 2008
December 31, 2007
December 20, 2007
Linux
:
Dedicated server
Community Mods and Utilities
:
TFTrue
Mani Admin Plug-in
Mini Mizor
Stock Maps
:
Classes
:
Ladders
:
ClanBase

ESL
Helpful Links
:
TF2 wiki

IRC Channels
:



(For information to be added to this FAQ please iMsg the author or post below)
Edited by Nicky at 02:03 CDT, 2 April 2008 - 21907 Hits