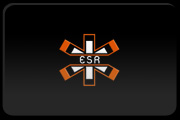 So, today, after 6 months at sea, with some intervals, ofcourse, the company I work for called me and said that everyone on board has been very happy with me, and they decided to change my contract from 'apprentice' to 'ordinary sailor'.
This means that from today I can call myself a professional mariner on all sailing ships, a fine day to be sure.
The only formality to be concluded is me completing a course in firefighting and first aid, which is going to be a piece of cake, since I've already completed it a few years ago.
So, the story goes something like this:
In February I was your average unemployed school dropout, willing to work, but unable to find work, I was in a program that enabled me to sort of work for a welfare cheque, far from ideal, but you have to do SOMETHING.
Then an advert on a job-site caught my eye: 'Sailing vessel 'Stad Amsterdam' seeking trainee, no experience required'.
Bloody excellent, I had no experience at all, so that would be just fine!
So I wrote them a letter, heard nothing for a week, then I received a letter from them, 'come 'round for an interview please!'
Sure thing!
So, a few weeks passed, and I got a phonecall:
'You still want to work for us?'
'Ofcourse!'
'Good man, you fly for West Palm Beach, Florida on the 7th of April, first working day is on the 8th'
'WOOOOOOH!'
After quickly arranging a US work permit and the such, and applying for a seaman's book, the wait was on.
On the 7th I was supposed to fly, Didnt get any sleep (me being somewhat shy by nature does not help when starting a new job.)
So the 7th arrived, I was driven to the airport by my parents, mum being very emotional. :).
I checked in, and after a while I met the people I was going to travel with, the captain and a fellow newcomer named Floris, coming from another sailing ship.
After a 15 hour journey from Amsterdam to Newark, and then Newark to West Palm Beach, with a shitload of delays, we took a cab to the ship at 3 am on the 8th of April...and there she was, the first ship I ever saw up close...and what a sight she was...80 metres long, the tallest of her 3 masts over 45 metres high, 28 sails, truely a lovely vessel, a true credit to the age of sail...a ship you fall in love with.
So here we are, 6 months later, and I am offered a contract for 3 years, the happiest day of my life so far!
Onwards to the horizon! I will be greeting it from the truck of the mainmast!
Fair winds me lads!
Marius
Professional Mariner.
Mon
Tue
Wed
Thu
Fri
Sat
Sun
1
2
3
4
5
6
7
8
9
10
11
12
13
14
15
16
17
18
19
20
21
22
23
24
25
26
27
28
29
30
20565 Hits