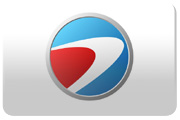 First group matches
Today the first Quake 4 matches where scheduled for 10:00 and we planned to get up around 08:30 to get ready for the event, unfortunately both Sizah and I werenít able to wake up before 12:00 so we missed out some of the first group matches.
The venue setup looks really impressive with in the center a main stage, which Iíve only seen used for Counter Strike matches so far. Iím not sure if the main stage will also be used for the finals of other tournament, but besides the main stage there are three smaller stages used for the other tournaments. In the center of the arena there are four white screens hanging on the ceiling so that the stage matches can be viewed from all sides of the gaming arena.
Although the whole setup looks impressive I personally preferred the setup from previous ESWC editions where the different tournament areas where more seperated. First of all there is no game sound and when I was watching the Cooller vs. Hunter game on stage there was also a match played on another stage for the Pro Evolution 5 tournament, so youíll end up trying to follow the Quake match while there is French commentary on the back for the PES match which can be heard through speakers around the whole arena.
Last yearís ESWC I really enjoyed watching the Quake 3 matches at the ITG booth with commentary from DjWheat and Tosspot and I definitely wasnít the only one who actually preferred watching the games at the ITG booth instead of watching it at the main stage. I think that everyone who ever followed any type of match shoutcasted by ITG knows what a great additional value it has to the experience and that when Wheat gets excited everybody gets excited.
Iím donít want to spend to much lines on the lack of English commentary as I could probably write a whole column about it, but I think itís a shame that an international tournament of this size does not includes English commentary. Obvious I do understand that there is a lot of spectators at the venue who might not understand English, but I really doubt those numbers would top the amount of people who are taken away a great experience due the lack of commentary in English. I must say that Iím not aware of the online coverage GotFrag does and whether it includes English shoutcast or not, but the fact that there is only French commentary at the venue makes it more look like a national tournament then an international tournament, besides I doubt that there are more people here at the venue who understand French than English.
I think that on some points the event has taken a step back and it seems that there is more politics involved now, which influence not all can be found an improvement. Overall the event is still amazing though and Iím really happy that I can be here in Paris and experience this event, but I feel that the image of ESWC has of being the best or at least one of the best events around the world is in danger of slipping away a bit. If there would be a poll again here on ESReality about which is the best event around I wonder if ESWC will be voted as best event again as they did after the first ESWC event back in 2003.
After watching some exciting games at the venue we went to Redeye and Tosspotís hotel to watch the soccer world cup match between Germany and Argentina in the hotelís lobby, which was followed up by a poker game in their room including Redeye, Tosspot, Sujoy, Technics, Crow (not totally sure if I got his nickname right though) and me.
We finished up the poker game around 23:00 where Crow was the big winner and Tosspot earning himself some money as well. Again we had diner at 23:30, this time in a nice French restaurant just outside their hotel.
After diner and conversations Sujoy, Crow, Technics and I walked back to our hotel at Paris Bercy, where the others went to their room I had a beer in the park around the Palais Omnisport with Sizah and several other Dutch people and eventually went to sleep at 04:30.
Mon
Tue
Wed
Thu
Fri
Sat
Sun
1
2
3
4
5
6
7
8
9
10
11
12
13
14
15
16
17
18
19
20
21
22
23
24
25
26
27
28
29
30
31
4023 Hits