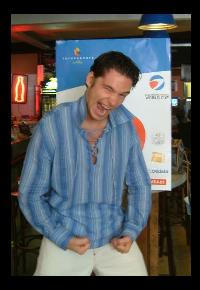 Full Name:
Erick de Ruiter
Homepage:
www•XtremeClan•nl
E$ Money:
500 (500 available)
Buddy list:
Description:
The MiMiC
I look into the mirror,
a stranger stares back at me,
my own haunting face..

I am unique creation of God,
And yet I am also many.
My real identity,
is lost in a fog of false pretences,
but why?

I take the qualitys of others for my own,
my past self forgotten.

I copy the ways of others.
For in this society,
someone unique,
someone special,
is feared and reviled.

I am not of these people copied,
these people who fear and hate,
who hold the qualities I will not take on,
but of another.

I am of the outcasts,
yet I am alone even there.

Others are cast away by the fearful,
my true self, I am myself forced to cast away,
For that person is not accepted.

So I must be alone,
unknown,
even to my self.

That is the eternal fate...
of the MiMiC.