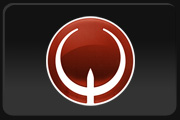 Update:
After only 1 hour of downtime, Quake Live is back! But as Syncerror
notes
,
"servers in United Kingdom, Poland, Argentina, and Korea were unresponsive during our update process and were unable to receive the new update assets. We will bring these servers back online once they have been properly updated"
.
While Quake Live is updating we already get to see the

Quake Live
Premium Pak 5
Changelog.
Included is the brand new TDM/CA/FT Map "Tornado" by swelt, Team Arena Terra CTF classic "Overlord" and "Double Impact" from ShadoW. As part of the Holiday Special you will be able to play as Santa on the "The Edge" remake "Winter's Edge" in FFA/FT aswell as "Silent Night" in CTF.
The long awaited Premium Duel Scoreboard, inspired by
Gillz's mockup
, is part of the Update. Also the QL Website now include Clan Profiles.
Source:
quakelive.com
,
quakelive.com/forum
Edited by xou at 09:01 CDT, 9 June 2011 - 46010 Hits