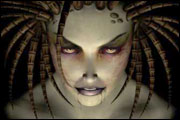 We have previously
reported
that on the 19th of May,
Blizzard
would announce Starcraft 2 as the sequal to one of the most celebrated and played game of all time. However, if computerandvideogames.com is to be believed, that will not be the case. Instead, the announced Starcraft game will be an MMO.
Well placed US sources have revealed to us that the StarCraft MMO will be unveiled at an upcoming Blizzard event on May 19 in South Korea - the epicentre of the sci-fi RTS series' rabid fandom.

The unveiling of the new instalment has previously been rumoured for the South Korea event, though we now know that the title is in fact an online spin-off and not a new RTS game as previously assumed.
While it may seem like an odd decision at first to produce yet another MMORPG in a market they so totally dominate with World of Warcraft it is not a completely unlikely event. Seeing as the owners of Blizzard, Vivendi, which happens to be one of the largest companies in the world and also a company with some heavy economical difficulties, would push for another MMO cash cow.
Source: cvg.com
Edited by Paladia at 03:40 CDT, 6 May 2007 - 45460 Hits