Thank you for taking time out of your busy schedule to do this interview Dan. Outside of quake can you give us a short introduction of yourself?
Dan: Well my name is Daniel De Sousa, im 20 years old soon to be 21 on october 10, i live in Adelaide Australia and ive been playing quakelive for about 6-7 months now cant remember exactly when i started, i use to play quake 3 also for a couple of years back when i was 15-17.

Personally what sets quake apart from other games? did you play any other games competitively? if so what were your achievements in said games
Dan: I have played other games never at a high level just for fun, to me the reason i like quake so much is its fast pace and the 1v1 aspect. Alot of other First person shooter's only have a team game aspect which i do like but to me the best style of game is 1 vs 1 when u rely solely on yourself to win, i play modern warfare on my playstation 3 and i have played counterstrike also but the weapons and fast paced action make quake the game for me :).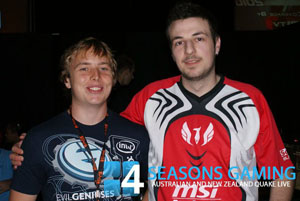 For those who don't know its only been recently that you've started playing quake seriously (after a long break from q3) what has allowed you to redevelop your game so quickly? what/who helped you?
Dan: I think quake is the kind of game where once you've learned the basic's timing, strafing, positioning you can build on it pretty easily. When i came back from my long break i just had to rebuild on the aspects of my game that i already knew from when i use to play to get them up to the same level as they were before i stopped and surpass that level which i have done now.

When you are preparing for an event, do you have a method to your training, or do you just play anyone?
Dan: I dont have a particular training method, i like to mix it up though between top players in australia and the mid level players in my opinion everyone has a certain aspect of their game that they are really good at, and i like to practice playing against every different aspect as much as possible to learn how to counter it an become better :).

An interesting fact that people do not know about you is?
Dan: I dont know if i have any interesting facts but something people dont know about me is i listen to pat benatar music it gets me ALL FIRED UP :/.

For the inevitable influx of people wanting to become like you what mouse/mouse pad do you use? accel/no accel?
Dan: I use the microsoft wheel mouse optical better known as the WMO 1.1a, and i use a steelseries qck+ mousepad i have alot of mice but this has the best feel for palm grip and is also very reliable ive never had any problems with it. I use 0.5 accel on a 5 sensitivity i like accel because it gives you the ability to turn really fast when you need to but also gives you the ability for controlled aim which is also needed its just a matter of getting use to.

Since you made your mark in your debut quakecon appearance its been well established that you're a level higher than any active duelist in ausquake, what can you attribute this to? (playstyle, diet, outside factors - attractive girlfriend?)
Dan: Obviously the biggest attribute to my game is my attractive girlfriend it all comes down to that without her i wouldnt be any good, haha but seriously i dont know if im a level higher than other people in australia we have a fair few good players who i think all have great potential i played well on the day and won the tournament for sponsorship to quakecon and am the one who has been able to show australian skill well i hope i have anyways.

If there was one part of anyone's play style that you wish you had (locally or internationally) who's would it be and what aspect of it?
Dan: I had a good chance of watching cooller play at quakecon and id have to say i would like to have his gameplay his control on a map is excellent and he chooses his opportunities for offense and defense extremely well i would like to have this aspect in my game since i believe this is where i can improve :).

What are your thoughts on the rumoured Australian/Asian iem tournament? are you satisfied with your recent form? what are your goals?
Dan: Obviously i just want to have fun since i enjoy playing the game winning or losing, however coming first would be great and would be my goal. I havent heard much on the tournament up to now, ill have to wait for the announcements of the tournament for more information.

Who do you see as a competitor in Australia for that sponsorship position? Only the big three? (ventz, zlr, rep) or a dark horse perhaps?
Dan: I do believe that ventz, zlr and rep will do well as they all play awesome games and i believe they all have different and great competitive styles and aspects in their games. The other player with a shot is Zenaku obviously he is a good player but i think he has a really bad attitude and its what's holding him back from improving his game.

Moving on to the international scene what are your thoughts on the gamescom results and the American iem, any players you're particularly keen on playing against or are inspired by?
Dan: The gamescom finals were great i watched them live and was very impressed, i was surprised how well killsen played ive watched him alot before and i think he definitely has the potential to be the best and he really showed it i think from this tournament i will be keen to watch his games in the near future. I have seen the IEM american results and their is no major surprise to me about the players who qualified, my top 4 would be rapha, dahang, chance, and voo i will be very interested to see who will take the number 1 spot Rapha is a great player and i'd say he would be the favourite for me but i saw that voo beat dahang in the qualifiers so i will be very interested to see how he plays i think some great games will be instore because unfortunately ive never had an opportunity to watch voo play. Im keen to play all of the players i was able to play at quakecon again to see if ive improved and just because i enjoy trying to beat players who are better than me :).

What are your thoughts on the IEM map pool, with the inclusion of t4 and minus battleforged (a fairly sucessful map for you) How does this affect you?
Dan: Im quite happy with the IEM map pool i have played all of the maps im a very big fan of Vertical Vengeance (T4) always have been and very happy to see it back in, and i also like the new map Hektik aswell its very fast paced which i think suits my gameplay and makes for exciting games to watch in my opinion. The only thing i would change about it is i would have kept battleforged instead of having dismemberment, i think battleforged was a great map and one of my best i will try my best to get my game on the new maps up to a level i want to be playing at.

What are your future plans concerning quake, are there any particular tournaments you're keen on playing/winning?
Dan: I just plan to take one thing at a time the whole quakecon trip was a great experience and alot of fun to meet all of the top players, i plan to play at the IEM asian tournament and if i can win obviously i would love to compete at the IEM world championship who know's from there.

Shoutouts to anyone in the community?
Dan: Id like to give a shoutout to ArchaicMSI who gave me the opportunity to compete in the first place it is amazing what they have done for Australian gaming so check them out http://www.archaic-esports.com. To the whole Australian quake community all of your support was what helped me play well at Quakecon :). To my family and obviously my attractive girlfriend who kept in contact with me an gave me alot of support which was great :). Also 4Seasonsgaming and Michael "mickzerofive" Jenkins they have done an excellent job and nothing would have been possible without them so checkout the website http://www.4seasonsgaming.com.
Interviewer Anabrasivejerk