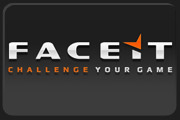 With great joy and excitement, I'm here today to present you
FACEIT
: Legends Cup. The best of the past will go up against each other to bring you an awesome show!
FACEIT will be bringing together eight of the best Quakers the game once had to offer and let them go head-to-head with each other! We will be announcing the eight oldschool players over the coming weeks via our Facebook page.
FACEIT: Legends Cup will be brought to you live by us on FACEIT TV on 16th December. The show will be casted by the by now familiar duo

Xavier "
Zoot
" Dhorne and

Daniel "
ddk
" Kapadia, but as an extra surprise,

Stuart "
TosspoT
" Saw will be joining them.
As mentioned before, we will be giving out more details in the coming weeks, but for now we can give you two of the eight names attending already.

Links:
FACEIT
,
Bracket
//

#FACEIT
,

FACEITCommunity
,

@FACEITcom
1529 Hits