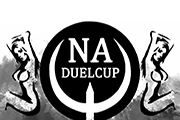 Scheduled: 17:00 CDT, 24 May 2015 to 21:00 CDT, 24 May 2015
Begins In:
This Sunday at 17:00 CDT you're invited to the 9th North American Duel Cup! We finally have the five maps for QuakeCon, so all Duel Cup's leading up to the event will feature the QuakeCon 2015 Duel Map pool plus two maps. The NA.DuelCup will remain a seven map event. This month our May 24th map pool will see cure and silence will join the LAN pool. Sign ups open the same day as usual, and please make sure you are signed up before 16:50 CDT to avoid being locked out of the brackets!
I know some of you from Europe have wanted to stay up and watch the cup, and to make it things more manageable for you I will also be rebroadcasting the cup the following day (about 12 to 14 hours later).
Thank you For Quaking, and Good Luck!
Stream:
FlairTV
Links:
VOD
,
#duelcup
,
DuelCup.com