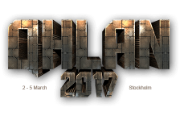 With nine days left to
QHLAN2017
it is, in the case of the unfortunate event that you cannot attend, time to make other plans for any girlfriends or family for next weekend so you can enjoy the streamed show under ideal circumstances.
For those of you who want details a
preliminary schedule
has been released so you know when the tournaments will take place. With an almost 100 man strong signup list, it is packed with big names and people are hyped to find out who will end up victorious with players like

Bps
,

Locktar
,

Rikoll
,

Milton
,

GT
,

Locust
,

Bulat
etc traveling towards Stockholm to duke it out.
The crowdfunded prize pot currently stands at
~15,500SEK
when writing this and the possibility to donate is still there for anyone wanting to throw in an extra carrot for their favorite player to grab.
Hype trailer
Full information on QuakeWorld.nu
Edited by Åke Vader at 01:02 CST, 21 February 2017 - 9941 Hits