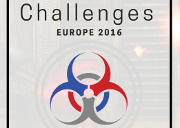 Scheduled: 11:00 CDT, 8 October 2016 to 16:00 CDT, 8 October 2016
Schedule:
Passed
Edit:
Event is now finished. Please see
Event Roundup
for all details.
With Challenges-EU 2016 scheduled for
11:00 CDT, 8 October 2016
(this Saturday), I decided to do a quick write up with respect to the major storylines leading into the event. Please remember that the following thoughts are mine, and mine alone, and that if you disagree, or find something to be factually incorrect please let me know, and I will make the appropriate edits. Please remember sign-ups are still open!
In addition to this,

Ryan_H has also created a second promo video, check it out below:
Here are the top stories to follow before and during the cup. Enjoy:
Thank you to all the players that provided me with some of their insights, and the people that helped me write this. Thank you!
Links
:

Sign-Up
,

Playmorepromode.org
,
CPMA Discord
,
Challenges-EU 2016 Discord
Streams
:


ZLive
,


Team 102
Donate
:
PayPal Link
.
Edited by xerosawyer at 09:43 CDT, 9 October 2016 - 81126 Hits