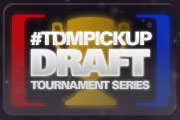 Scheduled: 11:00 CST, 3 January 2016 to 16:00 CST, 3 January 2016
Schedule:
Passed
Admins of #tdmpickup are proud to present next installment of the
QuakeLive TDM Draft Cup
with start on Sunday 09:00 CST, 3 January 2016.
Signups are open now and check-in on the day of the cup is required. Slots for the cup are limited and are based on first-come-first-served basis. Detailed info is in the requirements section below.
Your admins will be:

wdx2,

un4x,

afgh &

prophy.
The bot will print out the brackets at #tdmpickup channel along with the server info for where they should be played and will automatically post further information after each round.
Stream:

TBA (special features for streamers are promised)
Links:

#tdmpickup
Edited by xerosawyer at 10:53 CST, 1 January 2016 - 47966 Hits