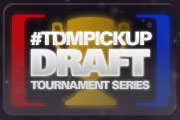 Scheduled: 09:00 CDT, 17 May 2015 to 16:00 CDT, 17 May 2015
Schedule:
Passed
This Sunday the weather is forecast to be rainy, so why not play in another multi-team pickup, also known as
#tdmpickup
Draft Tournament!
The 10th tournament we've hosted gathered 92 players forming 23 teams. You can watch VODs at
Flair TV
and
Level Up TV
. Spoiler: it was won by team pecka (pecka, lethiferous, Apollo440 and Batu1), followed by team empish and "team Harry" ;) who were awarded paintings and postcards signed by the most acclaimed Quake painter,

vikatje.
Some action shots!
Our 11th Cup in this series will start at
10:00 CDT, 17 May 2015
. Signups will start at 09:00 CDT, 17 May 2015 and will last for one hour.
We'll try the incomplete DE format once again, and to motivate you to play until the last game, there's again a prize for third place!
All players
are invited to participate, but remember, each player has to play at least
10 TDM pickups
prior to the tournament. Please warm up by playing with us all week!
Links:
Brackets
Streams:

Flair
Edited by Lam at 15:31 CDT, 17 May 2015 - 37046 Hits