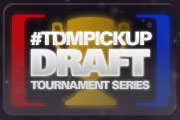 Scheduled: 10:00 CST, 23 February 2014 to 16:00 CST, 23 February 2014
Schedule:
Passed
Live update:
Congratulations to team gienon (gienon, URAZ, lethiferous, Gauldoth) and thanks everyone for playing!
Streams:
Funnyb
(English),
nix0n
(Russian),
ka5ta
(no cast)
POV Streams:
ash
,
Centinela
,
moogen
,
Xron
Long time has passed since our last draft. Keep reading to learn how to play in one on this very Sunday!
The 9th #tdmpickup Draft Tournament will be played at
10:00 CST, 23 February 2014
. Signups will start at 09:00 CST, 23 February 2014 and will last for one hour.
As usual, all players are invited to participate. Teams will be created automatically from the pool of all signed up players. Remember, each player has to play at least 10 TDM pickups prior to the tournament. So if you aren't ranked already, start playing pickups today! Have fun!
Apologies for late announcement, but real life scheduling conflicts had to be resolved to make this possible.
Links:
tdmpickup.eu
,
QLStats
Edited by Lam at 16:01 CST, 23 February 2014 - 17156 Hits