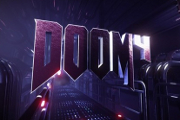 The long awaited First Person Shooter that started it all, just months after the
20th Doom Classic Anniversary
, Doom 4 closed beta will be available with a pre-order of another one of

id software upcoming titles,
Wolfenstein: The New Order
. An action packed, visually stunning and gorey trailer was released, combined with a cheerful 1960's German tune in the background.
The release dates are as follows:

May 20,

May 22,

May 23. It will be available across multiple platforms, including PS4, Xbox One, PS3, Xbox 360 and PC. According to Matt Grandstaff, Global Community Lead, Bethesda Softworks, "The game offers a deep narrative packed with action, adventure and first-person combat rendered in stunning detail with id Software's id Tech 5 engine". But now more about Doom 4, now called just "Doom". The game has been in development for 6 years now, facing numerous changes and
some hindrances regarding the art style and spirit
that the game should evoke. Pete Hines, then Bethesda marketing boss mentioned that the game "did not exhibit the quality and excitement that id and Bethesda intend to deliver and that Doom fans worldwide expect, As a result, id refocused its efforts on a new version of Doom 4 that promises to meet the very high expectations everyone has for this game and this franchise. When we're ready to talk about the Doom 4 id is making, we will let folks know."
A lot of information is still hidden behind the veil of secrecy, there is no approximate Beta release date either. The FAQ link is listed below. The 18+ requirements indicates guts splattered on the wall and that true bloody grimy feel that doom should deliver. Beta codes will come enclosed with your boxed copy of Wolfenstein: TNO, you will be able to redeem the code, although the beta beings later on a yet-to-be announced date. Date will be announced on the provided email.
Links:
Official Wolfenstein website
DOOM beta FAQ
,
Bethblog Entry
Edited by Teen Queen at 11:52 CST, 19 February 2014 - 44743 Hits